How to find us
UNSW - University of New South Wales
UNSW is located in the eastern suburbs of Sydney, in New South Wales:
UNSW is a short ride from the airport and central business district (~20 minutes by taxi, cost ~$25).
It is somewhat closer to the beach. Some of the nearest suburbs are Randwick, Kensington and Coogee.
Getting to UNSW
It is easy to get to the UNSW Kensington Campus via public transport. Please find more information
here
.
If you travel by car, you will find an interactive map showing where to park
here
.
School of Physics
The School of Physics is in the Old Main Building, which can be found at the following co-ordinates:
33°55'07.4"S 151°13'48.4"E or enter
-33.918723, 151.230108 into Google maps ( link).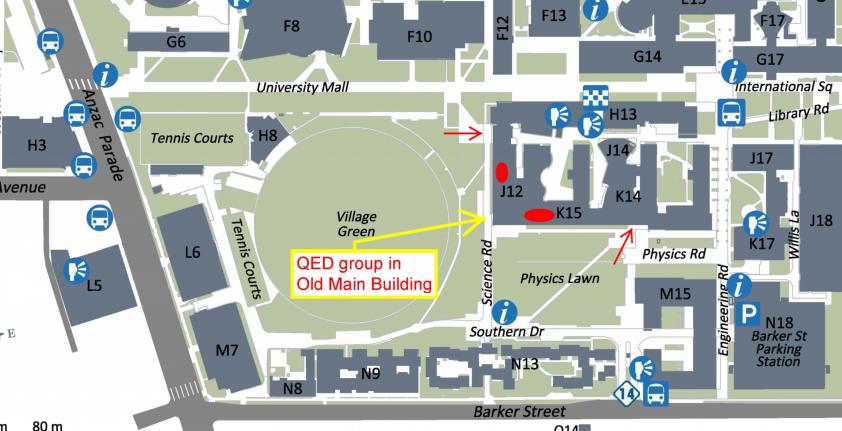 Entrance from University Mall
Google maps link is here
Entrance from Gate 14 Barker Street
Google maps link is here
QED group
Our address:
Our offices are in rooms 101A-C on the 1st floor of the Old Main Building.
Our laboratories are on the ground floor of the Old Main Building (LG48-51) and the ground floor of the Newton Building (WG8): Group of Prof. Alex Hamilton
UNSW School of Physics
Kensington Campus
Room 101 (First Flloor)
Old Main Building
2052 Kensington
Sydney NSW
Australia Phone: ++61 02 93855736
Email:
Alex.Hamilton@unsw.edu.au